02/04/11 21:04 Filed in:
I.C.T.
| Free Posters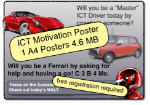 I use this poster to help motivate the boys in our school to focus on using their ICT Tools for focused learning. If they catch on they won't create what I call, "Candy-Floss" Inquiry Projects (look good but no learning and thinking substance). Enjoy. Check out
in2edu.com for more ICT Resources
and the ICT Sections of our
Banners
,
Awards
and more
Posters
.
Latest Additions to Banners, awards and posters sections.
Click here to Read More...