02/12/10 21:07 Filed in:
I.C.T.
| Software
| Free Banners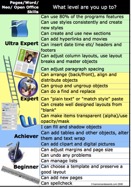 These great ladders have now been updated again. Use them with other rubrics to provide a skills base and tracking for pupils. Here is an example rubric I used just recently for pupils working with Multiple intelligences, key competencies (SOLO Taxonomy) and iWeb skills ladder. Train pupils for an ICT Crew or group of Tech-Angels. 22Mb file as it is rather colourful and has many pages. These
require our free membership
to download. Updated in December 2010.