16/08/11 10:37 Filed in:
Free Banners
| Social-Sciences

We have a couple of banners for a tourism inquiry unit, the latest new one and an older one focusing on New Zealand tourism. We also have
setup an integrated unit theme at our sister site in2edu.com
to give you ideas for activities, lesson or unit plans and ideas for integrated learning.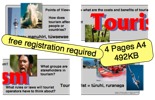 Our latest banner for this topic makes a great display on your wall. Enjoy!
Requires free registration here.