Communication, Collaboration, Creativity, Creative Thinking Poster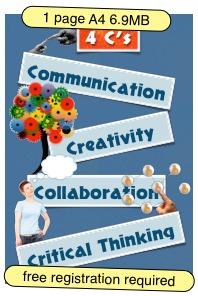 A poster outlining 4'cs of what a pupil can focus on: communication, creativity, collaboration and critical thinking. A way to highlight important 21st Century skills and key competencies.
Another free poster ready for you to download. Enjoy this poster for your writing, literacy or just general thinking in your class.
Click on the image to download (
requires a free registration here
).
We have a large range of thinking posters found here.. choose the thinking section.
If you require a variation on one of these posters (or an original one)
we have a very cheap design service that can be used here
. Just fill out details and you will receive a poster similar in quality to those illustrated here.